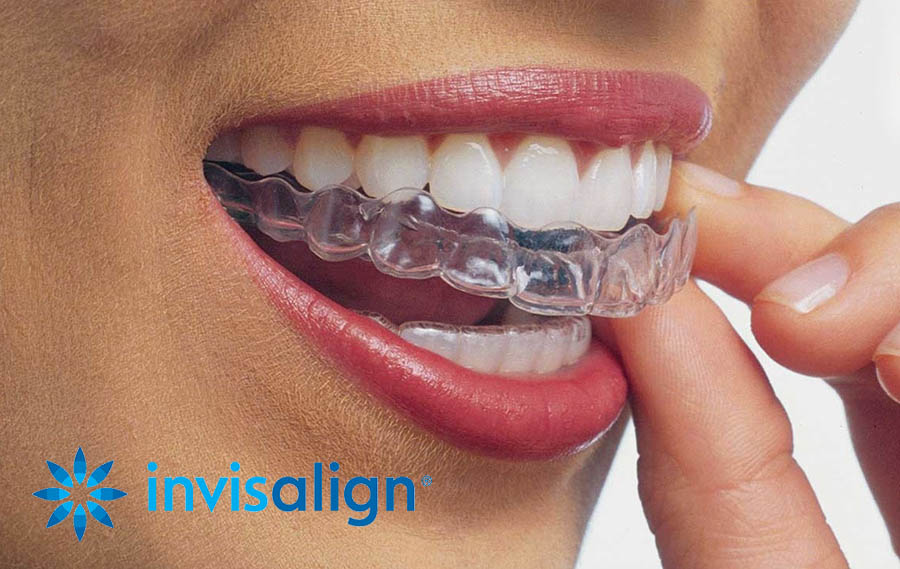 When new patients come to our office, most people are interested in the same thing—whiter, straighter teeth. There are a variety of different ways to achieve these goals, and one size definitely does not fit all. Some patients specifically want to know more about Invisalign, a clear aligner, tooth straightening service that our doctors can provide patients in-office. We love Invisalign, but in general, we love educating our patients about what straighter teeth can provide them, whether achieved by Invisalign or traditional braces. While straighter teeth might look better, we get excited about how they are going to function better as well. Teeth that fit together in a way they are not designed to are like using a tooth in a way you're not supposed to—it's going to break with misuse, which is what we see. Misaligned teeth often have chips, cracks, and wear facets from hitting each other. Over time, this wear can become quite significant and can lead to shorter, jagged, uneven teeth which are more likely to need crowns or more extensive restorative treatment to restore them back to their previous beauty. Straight teeth are also easier to keep clean—crooked teeth are harder to floss and spacing tends to gather extra food particles for later. Gums and teeth are happier and healthier when the teeth are lined up the way they are designed to be.
If you're interested in if you would be a candidate for Invisalign, we offer a free consultation to evaluate your smile. At that visit, we are evaluating the alignment of your jaws as well as your teeth—basically, the way your jaws and teeth all fit together. Unfortunately, Invisalign is not the best option for every patient—complex cases are going to require more control of the movement of teeth than Invisalign can provide and would be best served with traditional braces completed by an orthodontist. Once we decide you would be a candidate for Invisalign, we would go over a treatment plan of the costs, financing options available, and would take impressions and pictures of your teeth. We would then use this information to create your ClinCheck, or the plan of movement of how we will improve your smile, aligner by aligner. After we take impressions, we would see you back in 4-6 weeks to deliver your first set of aligners. Aligners are typically switched every 1-2 weeks. Every 4-6 weeks after that, we would have an appointment to check in on your progress and evaluate the movement of your teeth. Once we are all satisfied with your smile, we would take impressions for retainers to keep that smile in place! We recommend retainers to be worn full time for the first 6 months and night time wear indefinitely—aka as long as you want those teeth to stay in place.
As with any decision, there are pros and cons. With Invisalign, I love that my patients can still eat what they want and still brush and floss like normal by taking out the aligners. Typically their gum health is MUCH better than my braces patients as braces brackets and wires are difficult to keep clean around and trap lots of food and plaque. The obvious is that they are less noticeable—the clear aligners are very low profile and much less noticeable than brackets and wires. Many of my adult patients have expressed that they would never straighten their teeth with braces because of the appearance… but could be talked into clear aligner orthodontics.
Unfortunately, with Invisalign, there are negatives too. Being compliant and disciplined with wearing aligners every day is extremely important to achieve desired outcomes. Since you can take them out, sometimes patients forget to put them back in. We recommend wearing the aligners at least 22 out of 24 hours of every day—the teeth need a constant force on them to move them to the desired location. When the aligners are out, they want to move back to where they were before. Taking the aligners in and out can be inconvenient if you are out at dinner or in public. Some describe it as a built in dieting program because you have to take them out every time before you snack and we recommend brushing before putting them back in so food isn't trapped under the aligners. It's important to store them in a case as well so they don't get tossed out in a napkin or your dog doesn't get ahold of it. As previously discussed, Invisalign cannot handle as complex cases as traditional braces so the outcome make not be perfect… but even slight improvements can improve your function as well as the esthetics of your smile and are better than doing nothing if you're absolutely opposed to braces.
If you're interested in learning if Invisalign is right for you, please set up your consultation today by calling the office at (219)929-9289 or clicking the 'Schedule an Appointment' tab above! For more information about Invisalign in general, check here: https://www.invisalign.com/.
Chesterton Family Dental is the general dentistry office of Dr. Mystie Pieters, Dr. Heather Hradek, and Dr. Robert Pieters located in Chesterton, Indiana.