Dental Services
Our dentists provide a full range of dental services to keep your teeth healthy throughout your lifetime.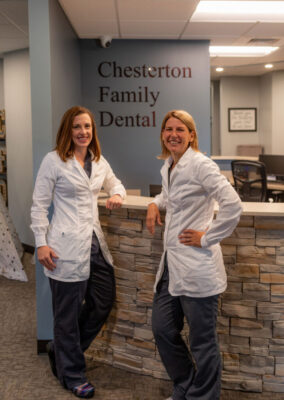 Contact Us Today!
We would love to meet with you and discuss your goals for dental care. To learn more, contact our practice today at (219) 929-9289 to set up an appointment. We look forward to partnering with you and your family to achieve your healthiest teeth and brightest smiles.
Dental Care
If you are searching for a dentist in the Chesterton, you have come to the right place. At Chesterton Family Dental, our dentists and experienced staff work with families and patients of all ages to provide comprehensive dental care in a comfortable, caring environment. Combined with state-of-the-art technologies, comfortable offices and flexible hours, it is easy to see why patients love calling Chesterton Family Dental their dental home.
Our Dental Services
Our dentists provide a full range of dental services to keep your teeth healthy throughout your lifetime. These include:
Bonding: Cosmetic resin is added to correct minor dental flaws, such as chips and discoloration.
Crowns and bridges: Repair damaged or missing teeth with dental crowns and bridges.
Dental cleaning: Twice-yearly professional cleanings are essential for keeping teeth and gums looking and feeling great.
Dentures and Partials: Restore missing teeth with natural-looking, custom-made dentures.
Extractions: Gentle tooth removal may be performed if the tooth cannot be saved by a root canal or other dental procedure.
Fillings: We can restore and strengthen teeth damaged by cavities using tooth colored fillings.
Implant restoration: Durable implants mimic a tooth's natural root to create a long-lasting, natural-looking tooth replacement.
Invisalign Orthodontics: We use clear, removable aligners to straighten teeth comfortably and discreetly to help improve your smile.
Night guards: Protect teeth from damage and alleviate pain or tension caused by frequent teeth grinding.
Oral hygiene: Twice-daily brushing and regular flossing are the best ways to keep dental issues at bay, but regular cleanings at our office will help remove tartar buildup from hard to reach areas.
Pediatric Dental: We treat children of all ages, starting with exams as early as age one or 6 months after the first tooth erupts, as recommended by the American Academy of Pediatric Dentistry.
Periodontal care: Treatment to manage gum disease and prevent further damage, such as tooth loss.
Root canal: Save a tooth with a severely infected and/or painful pulp and prevent the infection from causing harmful abscesses.
Sealants: A thin coating is bonded to the back surfaces of teeth help guard against cavities.
Sedation and Nitrous Oxide: We offer a variety of options to allow fearful patients to relax comfortably while teeth are given the attention they need.
Smile Makeover: We can discuss various options to help give you the smile you always dreamed of, using a combination of cosmetic techniques. 
Whitening: A quick and easy treatment to remove stains and enhance your smile's appearance. We offer a variety of options from take home custom trays to whiten while you sleep to in-office treatment, such as Kor whitening.
Wisdom teeth: Third molars may need removed to prevent problems, such as impaction or overcrowding.
Veneers: Ultra-thin porcelain shells bond to the front of teeth to mask dental blemishes.
Whether you're in need of a simple cleaning or a full-mouth restoration, Chesterton Family Dental has the dental care services you and your family need.