By: Dr. Heather Hradek
Chesterton Family Dental is proud to announce we are now offering Silver Diamine Fluoride (SDF) for cavity treatment! You may say, "That's great and all, but what the heck is SDF?!" Nobody likes to have a cavity drilled and filled, but now with SDF, we have a great alternative treatment option! SDF is an antibacterial liquid that treats tooth sensitivity and can slow or stop tooth decay from progressing.
Although you may not have heard much about it, dentists have been studying various formulations of silver nitrate, the predecessor to SDF, since the late 1800s. Japan has been using SDF for over 50 years to treat cavities, so there is an abundance of research about the safety and efficacy of this product. In 2014, the Food and Drug administration has approved sodium diamine fluoride as a tooth desensitizer in the United States.
The big benefit to Sodium Diamine Fluoride is that we can stop cavities WITHOUT a drill or an injection by painting on this liquid in 30 seconds. Yes, you read that correctly. The downside, however, is that it does turn the cavitated area black permanently, so it is not the most aesthetic solution long term, which is why it is not ideal for permanent teeth. SDF must also be reapplied every 6 months for maximum benefit.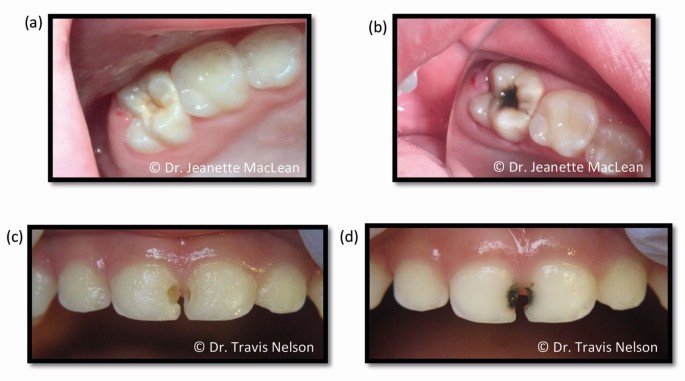 For many parents, the benefits may outweigh the downside when we have a very young, fearful, or special needs patient that otherwise would require general anesthesia in the hospital or sedation with a pediatric dentist. Although the decay may be stained dark, we also have the option of providing SMART fillings or Silver Modified Atraumatic Restorative Technique, which can be placed over the SDF stained tooth structure to provide a more aesthetically pleasing result. SMART fillings are done without drilling, shots, anesthetic, and as the name implies, without trauma! The glass ionomer tooth colored filling material is placed over the decay that has been arrested, but discolored, by the SDF. This helps to fill the hole in the tooth left by the cavity where food and debris would still be getting caught but also helps to cover up some of the darkness. While the SDF may slow or stop the bacteria causing the cavity, it does not restore the form or function to the tooth, so a filling would be needed in an area of larger breakdown. Ideally, these fillings are placed two weeks after the SDF is applied. There still may be a greyish tint to the filling, but the darkness is greatly minimized.
SDF is also a great option for elderly, disabled, or medically frail patients with sensitivity and decay on teeth, but may not be able to undergo the procedure for a more ideal treatment such as a crown or extensive fillings due to financial, comfort, or medical concerns. The SDF application is quick, painless, inexpensive, and does not require an entire dental office to apply. SDF can be applied with a quick swab of the liquid in a nursing home.
SDF has very low toxicity and is considered safe for use for all ages. For more information, feel free to call to ask more questions or set up a consultation with our team to see if SDF would be the right option for treatment for you or your family member.
For more information:
https://kidsteethandbraces.com/silver-diamine-fluoride/
https://www.ada.org/en/publications/ada-news/2020-archive/october/ada-supports-silver-diamine-fluoride-for-caries-management
https://jada.ada.org/article/S0002-8177(18)30469-0/fulltext?dgcid=PromoSpots_EBDsite_Nonrestorative